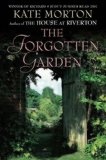 Autore
: Kate Morton
Anno di pubblicazione
: 2008
Editore
: Pan Books
Pagine
: 645
Iniziato il
: 30 marzo 2010
Terminato il
: 18 aprile 2010
Valutazione
: ★★★★★
A lost child: On the eve of the First World War, a little girl is found abandoned on a ship to Australia. A mysterious woman called the Authoress had promised to look after her - but has disappeared without a trace.
A terrible secret: On the night of her twenty-first birthday, Nell Andrews learns a secret that will change her life forever. Decades later, she embarks upon a search for the truth that leads her to the windswept Cornish coast and the strange and beautiful Blackhurst Manor, once owned by the aristocratic Mountrachet family.
A mysterious inheritance: On Nell's death, her granddaughter, Cassandra, comes into an unexpected inheritance. Cliff Cottage and its forgotten garden are notorious amongst the Cornish locals for the secrets they hold - secrets about the doomed Mountrachet family and their ward Eliza Makepeace, a writer of dark Victorian fairytales. It is here that Cassandra will finally uncover the truth about the family, and solve the century-old mystery of a little girl lost.
Ho iniziato a leggere questo libro con grandissime aspettative: lo paragonavano a "La Tredicesima Storia" di Diane Setterfield, libro che mi ha letteralmente stregata e ho pensato che non potevo assolutamente perdermelo. Ieri sera ho girato l'ultima pagina e mi sono sentita terribilmente triste: non avrei più letto di Nell, di Cassandra, ma soprattutto di Eliza! Una bellissima storia, il paragone con il libro della Setterfield è perfettamente azzeccato. Purtroppo non è ancora stato tradotto in italiano, anche se ci sono buone probabilità, dato che di un'altro libro di Kate Morton esiste invece una traduzione.
La protagonista della storia è Nell, che il giorno del suo 21esimo compleanno scopre che quella che ha sempre considerato la sua famiglia l'ha in realtà adottata quando a soli 4 anni è stata trovata da sola sul molo del porto di Maryborough, in Australia. Molti anni dopo questa scoperta, alla morte del padre Nell rientra in possesso dell'unico oggetto che aveva con sé durante il viaggio: una valigia contenente dei vestiti, pochi soldi e un libro di fiabe. E' proprio da questo libro che inizia il viaggio che porterà Nell in Cornovaglia alla ricerca delle sue origini, e dopo la sua morte, anche la nipote Cassandra, che riuscirà finalmente a svelare il mistero delle origini della nonna riportando alla luce i segreti della famiglia Mountrachet.
L'aspetto che più mi ha entusiasmata del libro è stato il fatto che non è assolutamente prevedibile, probabilmente anche grazie al continuo cambio di punti di vista tra le varie epoche: si viaggia infatti tra il punto di vista di Eliza/Rose/Adeline/Nathaniel agli inizi del 1900, quello di Nell intorno al 1970 e quello di Cassandra nel 2005. Questo permette all'autrice di lasciare aperte moltissime piste di interpretazione che girano intorno alla vera soluzione del mistero, il quale si riesce a ricostruire però solo alla fine...e lascia davvero di stucco!!
Il personaggio a cui mi sono particolarmente affezionata è la povera Eliza, che soffre per tutta la vita nonostante le dovrebbe spettare tutt'altro. La più odiosa è ovviamente quella vipera di Adeline Mountrachet la quale purtroppo non ha quello che si meriterebbe: l'essere svergognata davanti a tutti per le sue malefatte, commesse proprio per far si che tutti vedessero solo l'apparenza sfolgorante della sua famiglia e non ciò che in realtà si nascondeva dietro.
A girl expecting rescue never learns to save herself. Even with the means, she will find her courage wanting.
She always hid when she read ... it was as if she couldn't shake the guilty suspicion that she was being lazy, that surrendering herself so completely to something so enjoyable must surely be wrong. But surrender she did. Let herself drop through the rabbit hole and into a tale of magic and mystery ...