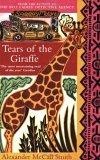 Autore
: Alexander McCall Smith
Anno di pubblicazione
: 2003
Editore
: Abacus
Pagine
: 256
Iniziato il
: 18 aprile 2010
Terminato il
: 20 aprile 2010
Valutazione
: ★★★★
Trama: Following on from the brilliant The No.1 Ladies' Detective Agency, Tears of the Giraffe charts the further adventures of Precious Ramotswe, Botswana's only - and finest - female private detective.
It's going to take all her intuition and eminent sensibility for Precious to crack her hardest case yet: the decade-old disappearance of an American on the edge of the Kalahari. And if that wasn't enough, there are plenty of matters closer to home to concern her: her highly talented secretary, Mma Makutsi, eager to be promoted to detective; the unscrupulous maid of her husband-to-be, the wonderful Mr J.L.B. Matekoni; and the sudden - and unexpected - increase in her family by not one, but two.
Sono tornata da quella che si conferma la mia detective preferita: Precious Ramotswe. In questa nuova avventura troviamo Mma Ramotswe alle soglie del fidanzamento con il meccanico JLB Matekoni
che aveva accettato di sposare nel primo episodio, dopo aver rifiutato una prima volta
. Mentre Mma Ramotswe è alle prese con il complicato caso di un ragazzo americano scomparso e con il desiderio della sua segretaria di diventare anche lei una detective, Mr. JLB Matekoni si ritrova a fare la prima scelta all'insaputa della futura moglie. Non è una scelta banale, ma cambierà il corso di entrambe le loro vite,
in quanto il meccanico acconsente ad adottare due fratellini dell'orfanotrofio: Motholeli, una bambina costretta sulla sedia a rotelle, e Puso. Nonostante la sorpresa, però, Precious acconsente ad accogliere i due bambini nella loro famiglia e mette a loro disposizione due stanze della sua graziosa casa in Zebra Drive, dove dopo il matrimonio si trasferirà anche JLB Matekoni.
Siccome non vedo l'ora di vedere come andrà avanti la storia ho già iniziato a leggere il libro successivo, "Morality for Beautuful Girls", tradotto in italiano "Morale e Belle Ragazze" (o almeno mi pare): mi sono incredibilmente affezionata a tutti i personaggi, e sono soprattutto curiosa di vedere come sarà la vita familiare
con i due bambini. Entrambi sembrano molto educati e tranquilli, ma mentre Motholeli ha già dimostrato una grande passione per i motori e per il lavoro del padre adottivo, per il momento Puso non ha ancora rivelato le sue caratteristiche e particolarità: è un bambino molto chiuso e credo che riserverà delle sorprese
. Le indagini di Precious sono sempre molto "all'acqua di rose" e questo mi piace moltissimo, perchè mi dà proprio l'impressione che siano solamente uno spunto per far emergere il suo carattere e la sua personalità, che sono molto forti e dominano tutto il romanzo. In realtà ciò che mi affascina è che attraverso le vicende dei vari personaggi, mi sto avvicinando ad un paese che, se è come viene raccontato, è estremamente affascinante...mi sa che dovrò prendere in considerazione un bel viaggio in Botswana.
Sometimes she thought that the people overseas had no room in their heart for Africa, because nobody had ever told them that African people were just the same as they were.